Call Us Today! 419-547-9538   (Store Hours:  Mon. – Sat. 9 AM – 5:00 PM, Sun. 12 PM – 4 PM)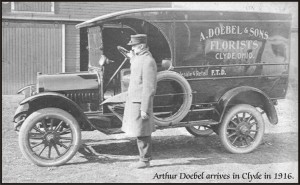 Doebel's Flowers has been at this location in Clyde since 1916.  The business was brought here by Arthur Doebel from Norwalk, Ohio and was called Arthur Doebel and Sons Greenhouse.  In the 1930's, son Wilbur A. Doebel and his wife, Marie K. Doebel, took over the business, later changing the name to Doebel's Flowers.  Wilbur passed away in January of 1976, leaving the business to Marie who took care of the main office.  The physical operation of the business was then handled by Arthur and Clifford.  During the summer of 1986, both Marie and Arthur Doebel passed away.  Clifford A. Doebel owned and operated Doebel's Flowers from 1986 until he passed away on February 4, 2013. Cheryl Doebel now owns and operates Doebel's Flowers with help from 4th generation Eric Doebel.
Doebel's Flowers is a full service Flower Shop and Garden Center with two acres of greenhouses.  We are open all year and grow most all of the plants and flowers we sell.  Visitors are always welcome to walk through our greenhouses and see what's growing on.