Call Us Today! 419-547-9538   (Store Hours:  Mon. – Sat. 9 AM – 5:00 PM, Sun. 12 PM – 4 PM)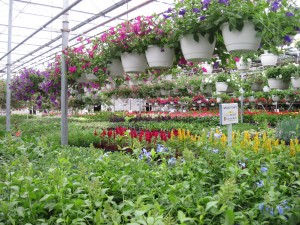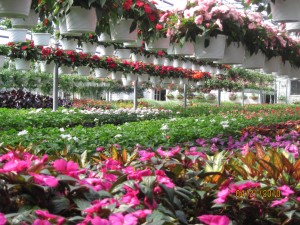 Doebel's is growing a beautiful selection of flowering plants for you!
Choose from hundreds of beautiful hanging baskets and colorful flowering mixed pots to enjoy on your porch or patio.
Ready to get planting?  A rose bush is a lasting treasure to add to your landscaping or flower garden.  You'll find a large selection of unique and beautiful  rose bushes, as well as flowering annuals, vegetable plants, bulk seed, herbs, perennials, hibiscus, new guinea impatiens, petunias, marigolds, geraniums…
Everything from Alyssum to Zinnias and more!  Doebel's Flowers is your first choice to select new items to add to your landscaping or garden.  You'll find items to bloom in the early spring, summer and fall.  Choose your favorite selection to maintain color from the spring into late fall.
For vegetable gardeners, Doebel's has an excellent selection of healthy, vegetable plants as well as a large selection of bulk seed.   From the experienced gardener, to anyone just beginning their first garden, Doebel's has healthy vegetable plants and quality seeds that will get your vegetable garden growing successfully.  You'll enjoy some fresh, juicy tomatoes, crunchy cucumbers, crisp sweet sugar snap peas and mouth watering watermelon.
Doebel's also has the knowledge to help you through your planting season.  So when something starts 'bugging' your plants, Doebel's can suggest the right product to keep your plants healthy.
And for those who have planted enough – or those who just don't want to get dirty – it's time to add the decorations that will enhance your landscaping masterpiece.  Or decorations to add to those landscaping areas that you've weeded but you just don't have the energy to plant any more!   Doebel's has a selection of decorative concrete, wind spinners and other yard decor that will enhance your landscaping quickly and easily!
So for everything you need to make your outdoors beautiful – Hurry to Doebel's for the best selection!